Getting the word out about your Tutoring Business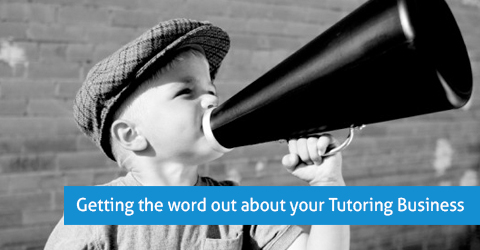 Getting The Word Out
Whether you have just started your new tutoring business or are introducing a new program you need to spread the word. That is to say, getting the word out is really important marketing. Most importantly, it does not have to be expensive but it is hard work.
You need to have a combined approach of technology and old fashioned leg work. Additionally, you will constantly assess the impact you are having. Therefore, the first question you should ask any new client is, 'How did you hear about us?"
Ideas for Spreading the Word about Your Tutoring Company
Brochures & Posters
Posters are great for attracting attention but your prospective clients can't take them home. Well they could, but if someone does you have lost your message. Therefore go for a poster-brochure combination. If you can't do both then do one or the other. For example, have a standard poster and brochure then supplement for promotions. That is to say, also have ones that are targeted to specific populations such as Elementary, Middle, High and College.
Visit your local schools to help with getting the word out. For example, ask if they will display your poster and brochures. On the other hand, ask to speak with the guidance councilor or place brochures in the teachers' mail drops. Perhaps the PTA will be able to help? Additionally, find out if there any school events coming up you could attend?
Furthermore, look up local day care facilities, after school clubs and venues such as the Y and Boys & Girls Clubs. In getting the word out you need parents so contact dance and gymnastic centers. Most importantly offer to reciprocate, you display their brochures if they display yours. The local gym usually has a bulletin board, don't be shy get your literature out there.
Think of where your decision makers congregate and think outside the box. Children's doctors and dentists usually have some kind of display and Mom is bored and picks stuff up to read!
Fairs & Nights
Remember careers fairs and school college nights are not to be missed. If you can't afford a booth wander around and hand out your brochures. Now is not the time to be shy.
Press Releases
The days when we submitted a press release to the local newspaper when something almighty happened are over. However, you can still trickle press releases into the online market place as often as you want. Write a press release about:
Your new company
When you hire your first staff member
If you start tutoring a new subject
Buying new desks
The options are endless, just remember to always provide a link to your website in your release.
We use prbuzz.com and find the service to be excellent; they publish and circulate your releases to be picked up by other sites.
Your Website
A website is great marketing as long as you can get people to come and view it. So remember to make sure your website address is on all of the above mentioned literature. Also, don't forget to do your SEO, (Search Engine Optimization) and do it organically. That is to say,  paying for cheap nasty rankings can have disastrous effects. Most importantly, have a good website that is easy to navigate.
Blogging
Start a Blog on your website, this is called content marketing. To clarify, write articles your potential clientele will be interested in reading. Getting the word out with a service such as MailChimp is quick. So send out email updates to your subscribers with links back to your main site.
But make sure to grow your email list organically, ask everyone you speak to if you can add their email to your list. See our article on Content Marketing for more ideas but remember less is more so don't flood your blog with mindless content.
Promotional Products
Never underestimate the power of a giveaway. For example, for a small investment you can have your name, number and website marching all over town. We love ePromos and use them for all of our promotional giveaway. View articles by ePromos on using promotional products.
Social Media
Your blog posts should link with your social media pages such as Facebook & Twitter. Consider using a delivery service such as Buffer to automatically post or tweet your new content. Keep your page relevant with everything linking back to your main site.
Events
One of the best ideas for spreading the word about your tutoring company is to have an event. For example, events bring in your existing customers, their friends and potential customers.
Remember it's a marathon not a sprint and results will not always be instantaneous.
Oases Online session scheduling and data management software can be used for your Sales & Marketing. Helping you to email, track and keep notes on prospective clients. View our features then request an online demo to see what we can do for you. Sign up for a free demonstration below and see how Oases can transform your tutoring business.
Book a demo time now
Use our online booking system to pick a time for a no commitment demonstration of the Oases tutoring management software. Quick and easy!