100 Marketing Strategy Ideas for Tutor Providers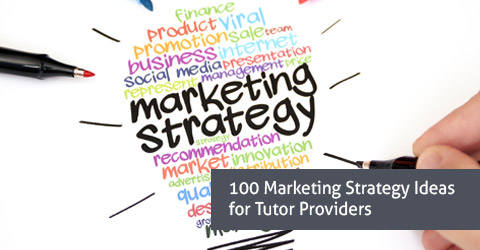 Reading marketing strategy books can be time consuming and daunting. That's why we've compiled a list of 100 Strategy Marketing Ideas so you can get some invaluable information in just a 5 minute read.
Some of these ideas will be applicable to your tutoring business and some will not. When you see a point that will help your business grow, make sure to think about it and expand that point. Sometimes the thoughts that stem from a specific point can be more valuable than the point itself.
100 Marketing Strategy Ideas to help grow your Tutoring Business
Strategy # 1 – "A large cast means you pay out more money on actors.  If you're on a budget, keep your cast small."
Strategy # 2 – "Marketing is a battle of perception.  No matter how good you are, your prospect's perception of you is their reality."
Strategy # 3 – "In the world of small business, you don't have to be better than your competition, you just have to be different and then let people know about it."
Strategy # 4 – "Customers buy based on emotions and then justify their purchase based on logic, so remember to include both elements in your marketing message."
Strategy # 5 – "The number one challenge in marketing is to get your prospect's attention and the second challenge is to get your prospect to trust you and believe your message."
Strategy # 6 – "Not all of your marketing efforts will be successful. The goal is to find what works by failing fast and cheap."
Strategy # 7 – "Successful sales result from a combination of multiple marketing efforts, programs, and mediums."
Strategy # 8 – "The more you tell, the more you sell.  Prospects are tired of worn out old sales pitches…they want to be educated rather than sold."
Strategy # 9 –  "Loyalty is rarely a result of quality, but rather of exceeding customer's expectations when things go wrong."
Strategy # 10 – "People buy more while they're in the buying mood, which is right after they have made their purchase."
Strategy # 11 – "People who give you permission to market to them are better prospects and faster buyers."
Strategy # 12 – "Your customers will tell you which marketing medium to use if you observe what they watch, where they spend their time, and what they listen to."
Strategy # 13 –  "People don't buy from strangers.  They buy from those they know, like, and trust."
Strategy # 14 – "Too many choices confuse people and confused minds always say 'no'.  Reduce the amount of options you give somebody."
Strategy # 15 – "Marketing budgets start by knowing the lifetime dollar value of new customers."
Strategy # 16 – "People buy based on value and value is defined as the perception of benefits divided by price.  If price goes up and the perceived benefits stay the same, value goes down…and vice versa."
Strategy # 17 – "80% of your referrals will come from 20% of your customers."
Strategy # 18 – "If everyone is your target market, then no one will be your customer."
Strategy # 19 – "The closer your marketing message is to the wants and desires of your market, the higher your response rate will be."
Strategy # 20 – "The true power in marketing is found in leveraging mass media."
Strategy # 21 – "It's always more believable to have someone else raving about you, than you raving about yourself."
Strategy # 22 – "The fastest way to make more money is to make frequent, irresistible, targeted offers to your customers."
Strategy # 23 – "If you're not getting refunds or complaints, you're not making strong enough offers."
Strategy # 24 – "You'll never improve your marketing if you don't test and measure your efforts."
Strategy # 25 – "Scarcity of time and inventory breeds urgency and urgency is the number one motivator to buy now."
Strategy # 26 – "When you give people what they want for free, they'll in turn, feel obligated to give you what you want in return."
Strategy # 27 –  "Prospects need multiple exposures to your marketing message.  81% of all sales are made on or after the fifth contact with your prospect."
Strategy # 28 – "Planning is one of the highest value marketing activities.  Businesses that have a marketing plan, outperform those that don't have a plan by an average of 30% or higher."
Strategy # 29 – "People are more motivated to action by the avoidance of pain than by the promise of gain"
Strategy # 30 – "The key to creating an irresistible offer is to build value through benefits and premiums rather than through creative  price discounting."
Strategy # 31 – "The more you lower the risk of doing business with you, the higher your sales will grow."
Strategy # 32 – "The secret to generating fresh marketing ideas is to observe successful marketing strategies from other industries and adapt them to yours."
Strategy # 33 – "Stop working 'in' your business and start working 'on' your business."
Strategy # 34 – "The principal goal when advertising high ticket items should be to generate leads that will obtain your prospect's full contact information."
Strategy # 35 – "Never let a day go by without doing something proactive to generate future business!"
Strategy # 36 – "Target your prospect with surgical precision.  You need to know their demographics, psychographics, geographics and occupation"
Strategy # 37 – "You're wasting your marketing dollars on general advertising if you aren't carefully advertising to your target market."
Strategy # 38 – "Identify the market with the biggest pain or problem, and then build a campaign around how your product or service can solve their problem."
Strategy # 39 – "You need to strategically place yourself in a small niche market where your advertising dollars can have a big impact.  Don't compete with the "big guns", cater to your niche and the business will flood in to you."
Strategy # 40 – "Your most valuable asset is your current customer base.  Be creative in finding ways to sell more products, more often, to your existing customers."
Strategy # 41 –  "A great way to get your customers clamoring for more is to reward frequent and high volume purchases."
Strategy # 42 – "Everyone wants to feel they are among the special elite, so you should create within your business 'VIP' groups, memberships, and special privileges for long time customers."
Strategy # 43 – "You need to communicate and make offers on a regular basis so that you will always be in the forefront of your customers mind."
Strategy # 44 – "Analyze your customers by how responsive they are to your marketing efforts and then focus those efforts on the most responsive customers."
Strategy # 45 – "Review and analyze your customer information and you will find ways to better talk to the needs of your less responsive customers."
Strategy # 46 – "Don't be afraid to use some of your marketing budget to nurture a small piece of your target market with regular contact and offers."
Strategy # 47 – "Occasionally ask your customers what other products or services they would buy from you and then find a way to meet their needs."
Strategy # 48 – "Everybody is looking for an expert in the area they have a need. You should market yourself as that expert."
Strategy # 49 – "You will obtain more leads if you use multiple steps in guiding your prospect to a final sale.  If it's slow, easy and low risk, they will be herded down the golden path."
Strategy # 50 – "See what your competitors are doing and sift the 'pearls' that can be applied to your marketing strategies."
Strategy # 51 – "Be willing to ask your prospects about their needs and wants so you can meet those needs and increase your sales."
Strategy # 52 – "In every industry there is often a gap between goods and services and other opportunities to provide these goods or services quicker, faster or better.  Imagine the huge epiphany when pizza parlors started delivering pizza."
Strategy # 53 – "It's important to position yourself as an expert in your niche and identify how the services you provide surpass your competitors services."
Strategy # 54 – "Always provide more than you promised, and you will find your customers will return again and again."
Strategy # 55 – "Capitalize on any unique aspect or feature of your product or service and you'll easily outsell your competition."
Strategy # 56 – "It's easier to market your product as specialized and ask a higher price rather than take a generic approach and miss your target market."
Strategy # 57 – "One of the most powerful methods you can employ is advertising the truth about your product or service."
Strategy # 58 – "Your advertising should have a purpose, if it doesn't, your wasting your money."
Strategy # 59 – "Don't guess or presume what you think your prospect should want.  Use fact based research to find out what they want and then provide that to them."
Strategy # 60 – "Some of the best headlines and marketing creative are recycled from the successful creative of others.  Smart marketers reuse good ideas, they don't reinvent the marketing wheel."
Strategy # 61 – "To remain competitive, businesses must frequently look at new ways to market or re-package their products and services to keep them new and improved."
Strategy # 62 – "When you take advantage of current events in your promotions and advertising, you can better grab your prospects attention."  (following the Tyson fight…"try this product or I'll bite your ear off!")
Strategy # 63 – "Find out your prospects expectations and meet them with a no frills attitude.  Then they will get what they wanted without you bending over backwards to be the hero."
Strategy # 64 – "You are allowed to use an unfair advantage when comparing your product or service to the cost of solving your prospects problem in a traditional way."
Strategy # 65 – "People want to be able to justify the emotional purchase they are going to make.  Showing them the amount of money they save over a year or their return on investment, is a powerful tool to get them buying."
Strategy # 66 – "It's important to place a value on your product, service or offer.  If your prospect sees it has a value, they will place more value in your product or offer."
Strategy # 67 – "Create a marketing message that lends credibility to the benefits of your product or service.  The world is full of skeptics; create a message that reduces their risk and concerns."
Strategy # 68 – "You can't expect your prospect to purchase from a stranger.  Providing a guarantee of your product or service will go a long way in resolving their concerns of purchasing your product."
Strategy # 69 – "Use your guarantee as a unique part of your selling proposition."
Strategy # 70 – "Multiple guarantees will work better than a single guarantee.  Be sure one of the guarantees is unconditional."
Strategy # 71 – "Prospects need to be sold in a step-by-step process.  Find the process that works best for your product and use it again and again."
Strategy # 72 – "Identify your prospects biggest, ugliest problem and then get them all worked up about the problem.  When you show how your product or service solves that problem, the sales begin to flow."
Strategy # 73 – "Your marketing efforts need to get your prospects attention and peak their interests.  Then you need to tempt them with some desirable offer that will move them to action."
Strategy # 74 – "A creative way to sell your prospect is to 'predict' their actions or feelings.  For example, "I predict you will be so happy with my widget, that you will be calling all your friends to tell them to buy this widget too."
Strategy # 75 – "When you have a patentable product, do not begin marketing until the patents have been issued.  Otherwise, your great idea or product will be quickly copied."
Strategy # 76 – "Sometimes a good way to sell your prospects is to provide them with your amazing guarantee first.  If done correctly, they are so impressed that they will read on to find out more."
Strategy # 77 – "You can create short headlines that grab your prospects attention; however, the best headlines are long and full of intense copy that will keep your prospect reading for more."
Strategy # 78 – "Find a niche or marketing gap where competitors are weak and then fill that gap with your product or service."
Strategy # 79 – "Important tip: never direct prospects to your ad or phone number in the yellow pages.  Direct them to the white page listing under your name so they only call you, not all your competitors on the same yellow page."
Strategy # 80 – "The dual purchase 'trick' will increase your sales and profits.  To accomplish this sales approach you need to have multiple products or smaller trial version of your product so you can up sell these products to your prospect."
Strategy # 81 – "An easy way to up sell your prospect is to offer a discount on the original product if they buy a second product."
Strategy # 82 –  "Having a satisfied customer as a spokesperson for your product can often pull more responses than you can.  A good testimonial will only improve your response rate."
Strategy # 83 –  "Using a local or big gun celebrity could increase the response rate of a good direct marketing campaign by 50%."
Strategy # 84 – "When you successfully create a compelling ad and begin getting responses, it is critical that you follow up quickly to close the sale."
Strategy # 85 – "Between 5% and 10% of your customers will buy anything you sell or recommend if you consistently deliver on your promises, exceed their expectations and have frequent, consistent nurturing communication with them."
Strategy # 86 – "A successful business has some way to capture the names of not only people who make purchases, but those who make inquires as well."
Strategy # 87 – "Don't make the mistake of offering too many sales.  If you do, your customers will wait for a sale rather than buy now at the regular price."
Strategy # 88 – "While your business is young, concentrate on selling your specific product.  You can add related products as your business matures."
Strategy # 89 – "To reduce the number of untargeted or curiosity calls to your 800 number, stress that the customer needs to have their credit card ready when they call."
Strategy # 90 – "A good way to advertise your product or service is in catalogs with products that are complimentary to yours."
Strategy # 91 – "Consider using a classified ad to guide prospects to your space ad in the same magazine issue.  If they respond, they are more qualified since they had to do two things to respond. "
Strategy # 92 – "Newsletters are a great way to have continued contact with your customers and show that you are a solid business that will be around a long time."
Strategy # 93 – "By sending your customers regular newsletters with valuable content, you establish yourself as an expert they can trust and return to again and again."
Strategy # 94 – "Don't think all you need to know about marketing can be found in books.  It's to your benefit to attend marketing seminars to keep abreast of new trends and ideas."
Strategy # 95 – "If you create new products on a regular basis, a creative way to market these is to invite your regular customers to preview and evaluate a sample.  Your evaluation sheets will be a great source in determining who needs sales follow up efforts and you may get some insights of how to improve your product."
Strategy # 96 – "When launching a new marketing campaign, see if you can time your launch around a special event, season or holiday.  Tying this with an event will help in name recognition and keep the new campaign more memorable."
Strategy # 97 – "Three is the magic number when creating visuals in marketing. Using 3 different fonts, 3 different colors, in 3 different groupings will keep your message focused and memorable."
Strategy # 98 – "Stay on top of your image.  You don't need to change your brand image to keep your image fresh.  However, you should periodically look at the image you are portraying and be sure it's in line with your marketing strategies.  "
Strategy # 99 – "Where possible, create niches within your company. Then you become the expert in that niche and can still offer your other niche services to your existing niche customers."
Strategy # 100 – "It's less expensive to retain existing customers than to find new ones.  If you remember them with regular contact, they will remember you when they or their friends have a need you can fill."