10 Ideas for March Marketing Madness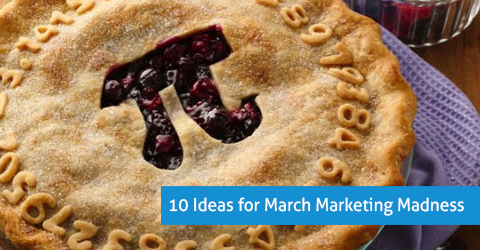 March Marketing Madness
March is an incredible month for you to launch great promotions and marketing campaigns. To clarify, ideas for tutoring marketing include everything from aligning yourself with a pet store, or a cross promotion with a local doctor's office.
Because of Pi Day, March is also the best time to share a slice of pie with your potential new customers. National Pi Day celebrates Pi, a mathematical concept.  Furthermore, it's a number that never ends, just like your tutoring marketing. Why not invite families to come visit you, and share some pie while talking about math tutoring? Pizza pie is acceptable as well!
Don't forget, March Madness is upon us. This is the national month for college basketball, as the NCAA crowns the country's best team. This is another great opportunity to tie in school spirit with promoting your tutoring business.
What ideas can you come up with?
Here are 10 great events in March that may be used as a promotion.
1. Johnny Appleseed Day (March 11)
2. Girl Scouts Day (March 12)
3. Plant a Flower Day (March 12)
4. Learn about Butterflies Day (March 14)
5. National Pi Day (March 14)
6. Ides of March (March 15)
7. St. Patrick's Day (March 17)
8. International Earth Day (March 20)
9. National Puppy Day (March 23)
10. National Doctor's Day (March 30)
11. March Madness Basketball (March 11 – 31)
Learn how to get more business with the help of Oases, the online tutoring management platform by booking a demo below.
Book a demo time now
Use our online booking system to pick a time for a no commitment demonstration of the Oases tutoring management software. Quick and easy!