It's Marketing, Horn Tooting is Allowed!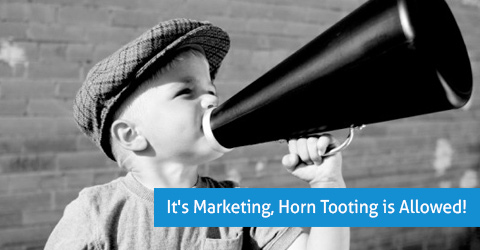 Toot Your Horn for Marketing Your Tutoring Company
How often do you remind your customers of all the little extras you provide? That is to say they most likely take these extras for granted. Treating them as just a routine part of doing business with you.
If you're like most of us, probably not often enough. Marketing is as much about reminding our existing customers of your value as it is attracting new customers. So how do you gently remind your customers of all the value you bring to them every day? Well it's marketing, horn tooting is allowed.
Here are a couple of ways we can all learn from:
At the Vet
A vet's office has a notice on their counter, nicely printed and in a decorative frame that reads:
"Dear Customers, We realize that times are tough for many these days and your pets are very important parts of your lives. That's why we haven't raised our rates in over 3 years. We want to make sure your best friend stays a happy healthy part of your family for years to come."
This is brilliant on so many levels. What marketing purpose does this simple notice serve? For one, it tells their customers they care and they are looking out for our needs and interests – every customer wants to know a business cares, right?
Secondly, this simple little sign actually sets the stage for their next rate hike. Yup – this notice is preparing their customers to justify a rate hike for them!!!  Think about it, businesses usually wait until we're increasing our prices to remind customers that we haven't done so in a while – and that always seems self serving. But reminding customers consistently without asking for anything now, allows us to send a message of care, concern, and understanding. So when it's time for a rate hike customers will justify it for us! They'll remember the notice and come to the conclusion themselves, "Well they haven't raised them in 3 years, it's only fair…"  Absolutely Brilliant!
At the Grocery Store
The second example of "horn tooting" was in the checkout line at Raley's Grocery Store.  "We unload your cart for you; it's our job, not yours!"
WOW… again, brilliant!  Really? Your job, not mine?  These days we all feel guilty just standing at the cash register staring at the cashier if there's no bagger. However, these guys are telling me we don't even have to unload my groceries. Okay, that's worth the extra 5 cents for a box of cheerios!
With this simple sign Raley's is marketing to existing customers; setting themselves apart from the other grocery stores and reminding us of why we may shop there. It's an excellent testimonial to the value they bring their customers every day.  What this sign really says is, "Other grocery stores make you do their work for them… not here!   We're different. You're the customer – relax and let us do our job, that's what you pay us (a little extra) for!"
Do You Toot Your Own Horn?
So, what sets you apart and what are you doing to remind your customers?   Do you offer free testing? Perhaps you perform complementary services? Do you offer longer payment terms than your competition? Have you not raised rates?  What are the little – or not so little – things that you – and your customers take for granted?
Or did you win an award, donate, volunteer, fund-raise, or get mentioned in the news? Did a customer rant and rave about you? All of these things are toot-worthy!  Put a notice on your invoices, website, or your next ad Or include it in a Thank You, Birthday, or Holiday cards. Don't be afraid to announce these things on Facebook, LinkedIn, Twitter, your newsletter, – or even a special email to clients!  It's Marketing, horn-tooting is allowed!
And, we're here to help you too. It won't take long to learn more about growing your business using Oases. Register for a quick, easy and free demonstration below to get started.
Book a demo time now
Use our online booking system to pick a time for a no commitment demonstration of the Oases tutoring management software. Quick and easy!