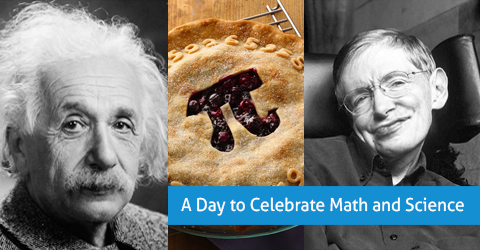 Remembering Stephen Hawking
Stephen W. Hawking, the Cambridge University physicist and best-selling author who roamed the cosmos from a wheelchair, pondering the nature of gravity and the origin of the universe and becoming an emblem of human determination and curiosity, died early Wednesday at his home in Cambridge, England. He was 76.
"Not since Albert Einstein has a scientist so captured the public imagination and endeared himself to tens of millions of people around the world," Michio Kaku, a professor of theoretical physics at the City University of New York, said in an interview.
Which by the way, Albert Einstein's birthday is today as well! How should we celebrate the incredible mind and life of Stephen Hawking & Albert Einstein? Well with a slice of pie of course.
How Is Pie Day Celebrated?
Pi Day was officially recognized by Congress in 2009, and it's inspired quirky and pun-filled celebrations, including eating circular treats, from fruit pies to pizza, as well as dressing like Albert Einstein, whose birthday serendipitously falls on the math-imbued day. San Francisco's Exploratorium also hosts an annual day of pi-inspired activities. The Massachusetts Institute of Technology releases its undergraduate admissions decisions on Pi Day, and starting in 2012, it began sending the verdicts at 6:28 pm, or "Tau time," for the mathematical equation 2π. This year, NASA is inviting math whizzes to compete in its "Pi in the Sky" challenge to solve a series of interplanetary math problems.
How Many Numbers Are in Pi?
Pi is a mathematical constant, meaning it isn't changed by the size of the numbers it's used to equate, and it is irrational, meaning it has an infinite number of digits that never repeat. The rise of computing technology has led to an arms race of sorts to calculate ever more digits of pi: the current record was set last year by Christian physicist Peter Trueb, calculated pi to 22.4 trillion digits — 22,459,157,718,361, to be exact — outpacing the previous record set in 2013 by 9 million digits.
But adding new digits is little more than a pastime for mathematics fanatics: NASA's Jet Propulsion lab only uses 15 digits to calculate interplanetary travel, while mathematician James Grime argues that just 39 digits of pi is enough to calculate the circumference of the known universe.
Where to get Pie
Between pepperoni pizza pie and strawberry boysenberry pie, there are hundreds of restaurants across the country who are offering great deals to celebrate the day. Bring some pie to work, or celebrate with your math and science students. Here is the full list, or here are just a few options below.
Celebrate math and science with us. Find out more about the Oases Online Tutoring Management System by booking an online demonstration below and when your team signs up your 2nd month will be free!