Tutoring Business Resources: Doing Expenses!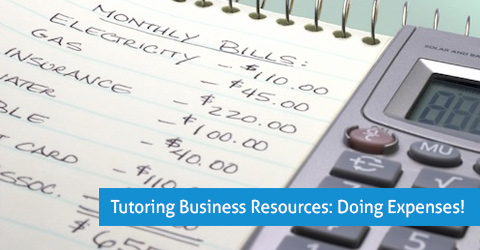 Doing Expenses for a Tutoring Company
Doing tutoring expenses takes time. So if you have a tutoring business there are some great apps and websites to assist.  These 6 apps can help you with doing your tutoring expenses. For example, help with everything from tracking your miles, billable time and even generating reports for your accountant! Take a look.
This free app enables you to keep track of expenses, mileage and billable time. You can link your credit or debit card to your Expensify account so the app will place charges directly on an expense report. You can also use this app to scan receipts and create an expense report, great for any small tutor that needs to keep finances straight. It also allows for multiple expense reports that can be converted to PDF files.
Available for your Android device, this open source app scans receipts via phone and generates expense reports that you can email to yourself as a PDF or CSV file. PDF reports are tabulated, making them easy to read and appropriate for sharing. There are both free and paid versions and great if you tend to tutor on the road.
If you are travelling a lot to get to your students and getting accurate and timely mileage logs is always a struggle, this app may help. Created strictly for tracking gas mileage, the app has a mileage log and IRS rates for reimbursement. The app can store frequent trips, so a simple tap inputs that mileage. Expense reports are easy to share.
This expense-tracking app lets you capture receipts and file them for reimbursement or as a deductible. If you're pressed for time, and typically have a ton of receipts to process, you can mail or ship an envelope full of receipts to the company and they'll input them for you, then send you an itemized list of your expenses in a digital file. The app works with both iPhone and Android phones and is free with a membership option.
Developed with small-business owners and consultants in mind, this app is quite comprehensive. In addition to tracking expenses and mileage, it also allows you to record time worked. You can customize categories based on your tutoring services, and it generates expense reports. And as a bonus, the templates in the app provide the information required by your accountant.
Designed for small businesses whose employees travel frequently, this free app, available for both iPhone and Android users, allows for fast creation of detailed expense reports. You can track travel expenses and approve travel spending for employees, as well as book hotels and flights. Take pictures of your receipts directly in the app, and link up with credit cards to track automatically.
For budget-conscious business owners, the good news is, many of the apps are either free, free with an option to upgrade, or cost just a few dollars. Below are six expense-tracking apps:
Did you know Oases Online helps you to accept credit cards and other accounting tools for your tutoring business? Get ahead of your receipts demonstration of Oases Online. Just using the booking button below.
Book a demo time now
Use our online booking system to pick a time for a no commitment demonstration of the Oases tutoring management software. Quick and easy!