How Does the Every Student Succeeds Act Differ from No Child Left Behind?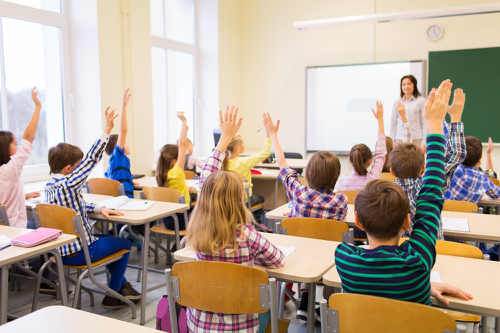 After passing with strong bipartisan support in the House and Senate, President Obama signed the Every Student Succeeds Act (ESSA) into law on Thursday, December 10 2015. The law, which replaces the No Child Left Behind Act (NCLB), returns the authority of evaluating school performance to states and local school district and lessens the role of the federal government in public education.
Reauthorization of the Elementary and Secondary Education Act
The Every Student Succeeds Act is a reauthorization of the Elementary and Secondary Education Act of 1965 (ESEA). ESEA was signed into law by President Lyndon B. Johnson during his "War on Poverty" campaign, and the law's Title 1 provision offered federal funding to public schools with large percentages of poor, disadvantaged children. The act sought to provide children with fair and equal opportunities to education and to lessen the student achievement gaps.
While each reauthorization of ESEA brings new changes to the law, each strives to improve the educational opportunities of students from low-income families and hold states and school districts accountable for the success of their students.
No Child Left Behind
In 2002, ESEA was reauthorized as the No Child Left Behind Act under the Bush Administration, which drastically expanded federal involvement in public education. Like ESSA, the law passed in the House and Senate with strong bipartisan support. The act mandated all students be proficient in math and reading by 2014 and all teachers be deemed highly qualified by 2006. NCLB did not set a national standard for student achievement but allowed each individual state to develop its own standards for measuring proficiency.
Under NCLB, public schools that received federal funding under Title 1 of ESEA had to administer annual statewide assessments to every student in select grade levels. The schools were required to make Adequate Yearly Progress (AYP), meaning the current students within a particular grade level had to outperform the students of the previous year. Schools that did not make AYP toward 100% proficiency were labeled "In Need of Improvement" by the federal government. The federal government would intervene in these schools, such as by permitting students to transfer to more successful schools in their district or opt for supplement tutoring, such as with online tutoring software.
Race to the Top
Then, in 2009 the federal government's involvement in public education increased further with the Obama Administration's Race to the Top initiative. Race to the Top was a $4.35 billion competitive grant program created as part of the stimulus package to encourage and reward states that adopted educational policies supported by the administration, such as more rigorous academic standards, performance-based teacher evaluations, the use of data systems, and support for the expansion of charter schools. Despite its good inventions, schools were unable to meet the goals set by NCLB, and U.S. Secretary of Education Arne Duncan issued waivers from the act's requirements for states that adopted reform policies preferred by the administration.
The Implications of NCLB
Though some argue it was unsuccessful, NCLB facilitated some positive outcomes. The law helped strengthen the notion of holding states and school districts accountable for the success of their students. It has also enabled schools to utilize statewide assessments to monitor the performance of various subgroups, such as minority or low-income students, which has helped ensure the needs of low performing subgroups aren't being ignored. Additionally, academic standards have been raised, and teacher-evaluations have helped improve the quality of teachers and academic performance. Since the law's enactment, students are performing better on standardized tests and advanced-placement exams, and high schools graduation rates have also improved.
NCLB Rewritten
The Every Student Succeeds Act (ESSA), which was signed into law by President Obama earlier this month, shifts authority from the federal government to states and local school districts. It provides a similar accountability system as the former-NCLB; however, states will be responsible for evaluating a school's performance. Now states have control over their accountability system, as well as how they will intervene in poorly performing schools, evaluate teachers and test and measure proficiency. ESSA also grants states more flexibility when it comes to funding. They are able to allocate 7% of their Title 1 funding for school improvement efforts and use funding from block grants however they see fit.
With the Every Student Succeeds Act, the federal government hopes the nation's schools will improve the outcomes of its students.
[ssboost]