3 Essential Facts about Yelp for your Tutoring Business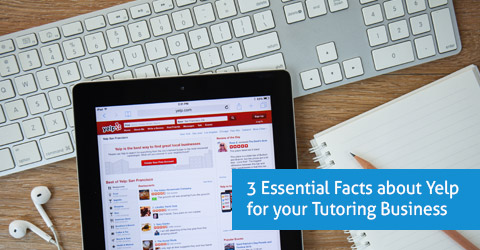 Yelp For Your Tutoring Business
Social networking sites like YELP are more popular than ever. Whether you know it or not, your small business may already have a presence on Yelp. The question is – are you in control of it?
With more than 77% of adults turning to the internet to make LOCAL buying decisions, social networking sites like YELP are more popular than ever. As of 2017, 150 million consumers visit Yelp monthly to learn about local small businesses. And there are close to 3 million claimed local businesses on Yelp.
Whether you know it or not, your small business may already have a presence on Yelp. The question is – are you in control of it? Yelp is a social networking site that allows consumers to learn about – and rate – their favorite (and not-so-favorite) places to eat, shop, play, and spend their hard-earned dollars.
Ignoring social sites like Yelp isn't going to make them go away or prevent negative reviews.  Remember the golden rule of Social Media Marketing? Social Media is about Listening! And if you haven't set up your listening station to be notified when people are talking about you (using Google Alerts, for example) on the web, you are missing a huge opportunity – and you could be responsible for sabotaging your own business.
Essential Facts About Yelp
You don't have to claim your page or set up an account for people to be able to post reviews
That's right- anyone can add your business and review it. You may already be there and not even know it.  This could be extremely damaging to your tutoring business.
Claim/unlock your business page (It's Free)
Go to yelp.com to claim your business page and unlock all the tools that are available to business owners.  Like tracking number of visitors, demographic info of reviewers so you can learn more about your target market and how they found you, you can post hours, specials, photos, or anything else you want your potential customers to know about your business – and of course the ability to respond to reviews.
Respond to negative reviews
Either publicly or privately – what a great way to turn a negative into a positive! We all make mistakes and most consumers will forgive a mistake if it's handled appropriately.
Respond privately:  If someone leaves a bad review you now have the option of communicating with them privately to work it out. I recommend doing so – immediately.  Do what you can to resolve the issue- this is an awesome opportunity to create goodwill, save a customer, and perhaps generate awesome word-of-mouth marketing.
Once the customer is happy ask them, "Have we satisfactorily resolved your complaint?" "Would you recommend us to a friend?" If the answer is yes, ask them if they would either revise or amend their Yelp review to let people know how your resolved the issue. If the customer doesn't do it- you can then go to a public response – see below.
Respond publicly:  You can also respond publicly and I've seen this done extremely well. You can tactfully state your case. Did you try unsuccessfully to resolve the issue? Tell people! Did you go out of your way to try to make it right? Tell people! Did you respond to the customer privately and rectify the situation? Talk about it!  Also keep in mind – there will always be complainers- and the Yelp community can spot one a mile away (anyone can access all of a person's reviews and if they're chronic complainers their opinion will most likely be ignored by potential customers).
Yelp is a community and those who use it religiously take it very seriously. You have to set up an account and register to leave reviews; this allows the public to track reviewers' activity. If someone complains constantly or seems to have a personal vendetta, it's pretty easy to spot and people will take their negative comments with a grain of salt.  Social media sites like Yelp need to be embraced, not ignored. So claim your listings and start monitoring activity today!
Book a demo time now
Use our online booking system to pick a time for a no commitment demonstration of the Oases tutoring management software. Quick and easy!