Winning PR Stories to Grow your Tutoring Business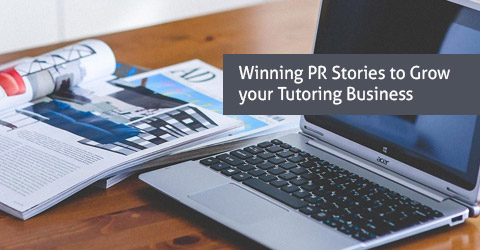 Winning PR Stories
You may have no idea what to write or even how to start a press release that will get the interest of local media. However, don't let that stop you using winning pr stories to grow your tutoring business.
Here are three types of press releases that often have a great response and should help you build the reputation of your tutoring business.
The "Rags to Riches" Press Release
Everyone loves a rags to riches story. So write your own success story about how you started with next to nothing and worked to grow your tutoring business.
For example, your headline could read like this… "Local Tutor Starts With Nothing and Builds a Thriving Business."
In your press release start by sharing a little about yourself; where you came from and your personal education journey. Above all, build your experience around how these events led you to opening up a tutoring business in your area. The media will love it, and you should get a ton of local praise.
The "Giving Back to Charity" Press Release
We all admire a small business who is trying to make a difference in their community. If you have a sale or an event that is donating a percentage of your revenues to a charity, THAT is newsworthy. Furthermore, you don't need to donate money, consider a press release about donating some tutoring time to local students in need.
If you help students in need progress with their studies, these are also winning PR stories.
The "Economy" Press Release
Right now, the media is looking for local businesses that are succeeding with the dramatic shifts in the economy. Any time you can write a story that coincides with a recent news event, your chance of getting your story to be published increases dramatically. This is called "piggybacking."
Piggybacking your story means that you are combining your story with a recent news event or something that's getting a lot of press right now.
The economy and shifts in education is getting a ton of press. Leverage that by writing about how your tutoring business is overcoming economic change and uncertainty.
Embrace this Opportunity
Press releases can help small businesses in a multitude of ways. To clarify, the right words in the right hands can grow your tutoring business through exposure. Most importantly, it will build your reputation online, help with marketing and search engine optimization (SEO).
Once you write your press release, there are several free services online that will help you distribute it to national and local media outlets. One press release could completely change your business.
Book a demo time now
Use our online booking system to pick a time for a no commitment demonstration of the Oases tutoring management software. Quick and easy!