The Importance of Summer Tutoring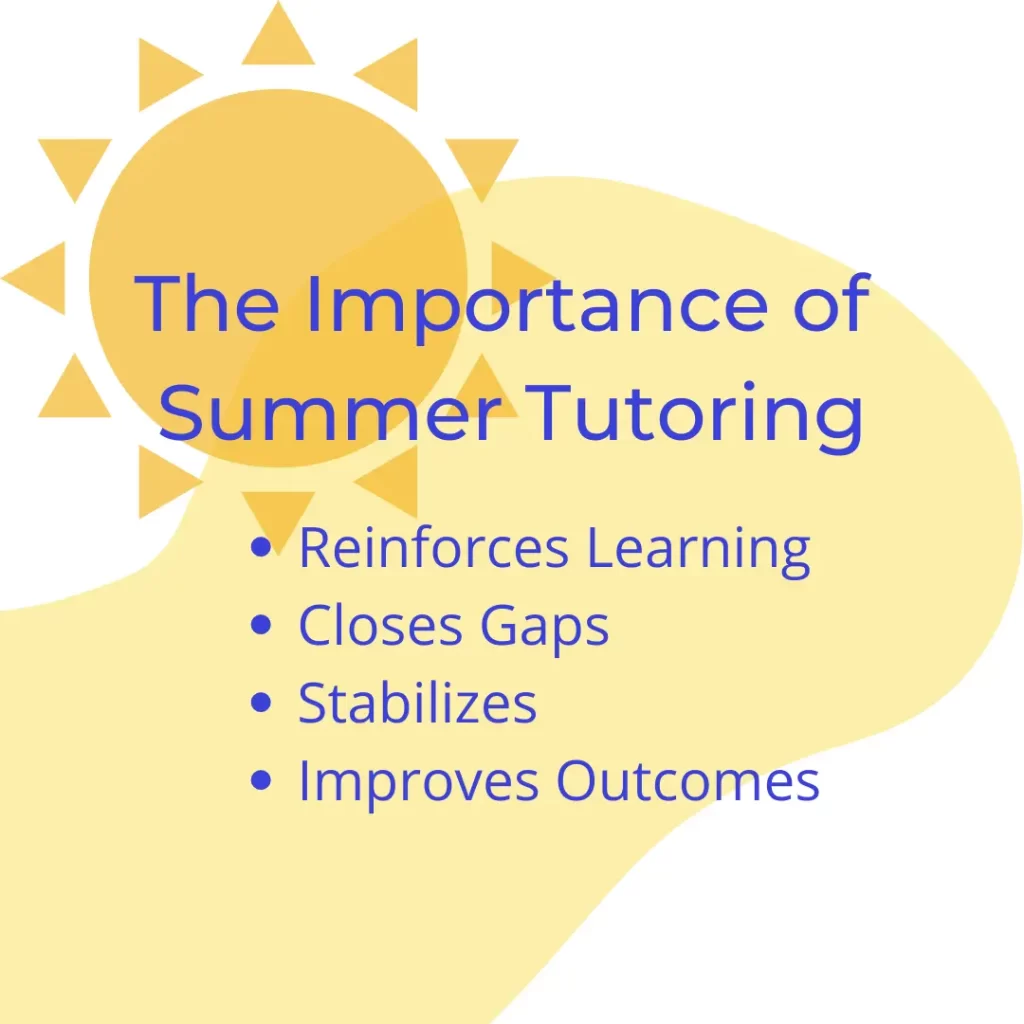 The Importance of Summer Tutoring
Now that Summer is here and school's out, most kids are thinking about Summer vacations, swimming parties and hanging out with their friends. However, for tutors and tutoring companies, summer is important for an entirely different reason.
The months between one school year and the next represent a great educational potential for students. Conversely, escaping from all academic pursuits for the summer can mean a huge step backward for some kids.
Summer tutoring counteracts that tendency. Consider these five reasons why summer tutoring matters!
Summer Tutoring Reinforces Learning
Summer Tutoring reinforces last year's learning. At the end of a school year, a child is filled with the stimulation and learning that comes from back-to-back months in the classroom. Continue the habit before it's lost.
According to the National Summer Learning Association, "All young people experience learning losses when they do not engage in educational activities during the summer,". Furthermore, "research spanning 100 years shows that students typically score lower on standardized tests at the end of summer vacation than they do on the same tests at the beginning of the summer." Students are able to retain more from the previous year of school, setting a good foundation for the next.
Closes Knowledge Gaps
Tutoring fills in the gaps and tutors can concentrate on problem areas. The extra attention and training of summer tutoring can be just the support a student needs. For example, helping them to understand parts of schoolwork where he or she has been getting stuck. Before having to jump into a new school year and new challenges, the student can catch up. Not only that she can be prepared to keep moving forward.
Stabilizes
Creates Stability in a More Relaxed Season. One of school's great advantages for children includes offering stability and routine — kids have classes to attend, homework to complete and a schedule to stick to each day. In summer, that structure is lost, in favor of a more relaxed and sometimes chaotic schedule. Summer tutoring can help restore stability by giving kids something to focus on, work to complete and purpose in their days.
One on One Attention
Provides Individualized Attention. A tutor is often able to provide one-on-one support or, at least, more individualized attention in a small group setting, than what a teacher can provide in a traditional classroom. Because he or she can consider the student's learning level, communication style, etc., this attention can make a big difference in how the child learns.
Summer Tutoring Improves Outcomes
Improves Student Outcomes. According to research from Rand, "Rigorous studies of voluntary summer programs, mandatory summer programs and programs that encourage students to read at home in the summer have all found positive effects on student achievement." The bottom line with summer tutoring is that it can help kids achieve better outcomes now and in the future.
Clearly, summer is more than a time to relax and check out of schoolwork for a while. Through effective tutoring, kids have a way to reinforce their learning from last year, get help in areas where they need it, find stability, enjoy personalized attention and achieve better results overall.
Manage Your Tutoring with Oases Online
Looking for a better way to manage your tutoring or tutoring company? Consider a solution that manages all your business needs and Programs such as Oases Online. Book a demonstration below.
Book a demo time now
Use our online booking system to pick a time for a no commitment demonstration of the Oases tutoring management software. Quick and easy!