Are you networking wrong?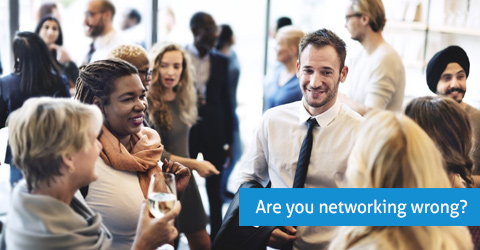 Networking for Tutoring Companies
We all know that word of mouth is the best marketing tool there is. Why? Because when someone tells someone else what a great tutoring company you are, you've already overcome the biggest hurdle to making a sale – trust.
Networking for tutoring companies is a great tool for building a referral network. Thus increasing word of mouth business because it allows people to see you, and that builds trust.
There are a ton of networking opportunities out there for business owners.  Including Chamber of Commerce events, Business Networking International (BNI) and many others. Such as LeTip, Successful Thinkers, and dozens of others. Then there are the professional and social groups and associations, Rotary, Kiwanis, Soroptomist, etc.
How to Use Networking for Tutoring Companies
If your goal is meeting people who will help your business grow, then not all groups are created equal. That is to say like any marketing tool, it is important to have a strategy and to choose wisely.
Here are 3 things to consider before joining any networking group or association:
1. What is your goal
As business owners, typically our #1 goal is sales, and part of that process is to meet people who can help make our business a success. Whether they are potential clients, people who have access to and can introduce us to new clients, or successful business owners we can learn from. Every group we get involved in – whether it's networking, charity, Chambers, or a committee, we join with that goal in mind. Some of you might think this sounds selfish and self serving, but it isn't. Some of us are asked to attend networking events all the time, but each of us has a specific target market – and if a networking group consists of individuals and businesses outside of our target market, it won't be the best use of our time and resources. Who is your target market? Affluent couples of teenagers? Double working parents? Single moms? Students? When considering a group or event ask yourself, is it going to help get exposure to that target market? If not, you should probably pass.
2. What is the cost of membership
We want to wipe out a common misconception and make one thing very clear here: NO NETWORKING GROUP IS FREE. Sure, maybe there are no membership dues but time is money and for most of us, our most precious commodity. So when considering the cost of membership we want you do this exercise:
a)   Multiply your hourly rate or wage x (the number of hours at the meeting + the number of hours spent on follow up coffees, lunches, phone calls + travel time)
b)   Add the cost of coffee, lunches, dinners, drinks, mileage, bridge tolls,
c)   Add up any dues or fees paid
d)   Now add the totals of a, b and c together – this is the total cost of membership.
e)   Now divide the total cost of membership by your average sale amount to figure out how many clients you'd need to make this investment worthwhile. Think about the networking you've been doing, is it paying off?
3. Analyze the clients you're getting
Ok, so speaking of your average sale amount – take a look at the clients you are getting from networking; calculate the average sale amount AND the profit margins, do they match up to average? Technically, both numbers should be higher than average if you're networking in the right places, because they come to you pre-qualified and ready to buy because that trust hurdle has been overcome. If they aren't, you may be networking in the wrong places.
Remember no marketing tactic is going to give you the results you need if you don't put some strategy behind it. Plan. Analyze. Think. Take a look at these tips the next time you are thinking about going to another networking event or volunteering for another committee! Remember, time is money!
Time is money, plug your profit leaks by working smarter. Manage your tutoring business with Oases Online. Book a demonstration below.
Book a demo time now
Use our online booking system to pick a time for a no commitment demonstration of the Oases tutoring management software. Quick and easy!