Youth Day and 12 other August Promotions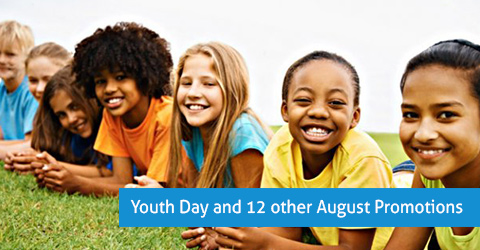 August is chock full of reasons to have a tutoring promotion and increase your summer tutoring revenue. During a time when many parents have to pay for child care, camp and/or a variety of activities to entertain or ensure the safety of their children, we should always be looking for ways to team up with these child care providers to try and take a slice of the pie.
Marketing is a serious matter but make it fun for everyone involved and think about how you could use one of the following campaigns to run an open house, workshop or promotional event to raise general awareness for your business. Remember, customers can come from anywhere!
As always, don't forget to write a fabulous Press Release and check with other local businesses if they are doing something on one of these days. Collaborating with your local community can go a long way to building credibility for your tutoring business while also finding new customers.
Here are 13 great events in August that may be used as a promotion for tutoring, and coaching businesses.
1. Back to School
2. Children's Eye Health & Safety Month
4. National Immunization Awareness Month
5. Beach Month
6. Happiness Happens Month
7. National Inventors Month
8. Spinal Muscular Atrophy Awareness Month
9. Coast Guard Day
12. Little League World Series
13. Women's Equality Day
If we've missed any important ones or you have additional ideas please post them in the comments section below!
Book a demo time now
Use our online booking system to pick a time for a no commitment demonstration of the Oases tutoring management software. Quick and easy!