Online Tutoring with Limnu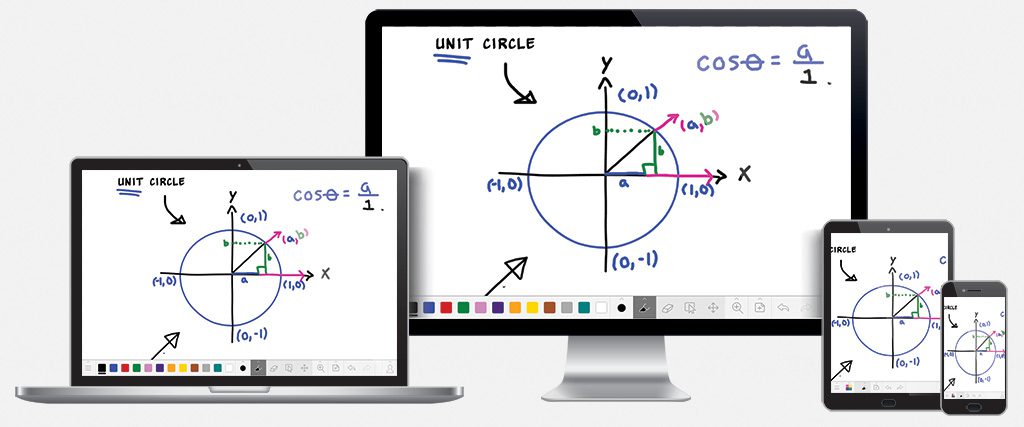 Online Tutoring with Limnu Whiteboard
Limnu is an online whiteboard with a free trial, simple sign up and a free tier. A great solution for tutors who need up to 15 boards for tutoring sessions.
Limnu Management Interface
The dashboard is intuitive with a bright and fresh presentation of your boards. You'll find the commands simple, helping you to perform actions such as sharing the board. Also, you can rename and grant permissions for your students to collaborate.
The desktop version is responsive, so for the image below I made the browser smaller to fit the right side icons into the shot. Apps for ios and Android are also available.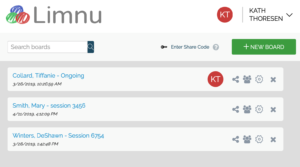 Limnu Board
Options for pen or marker, various colors and tools such as sticky notes, pins, labels or images. I had trouble with the controls of the sticky note. It will add to the center of the screen and moving it around was not as simple as grab and drop as the move tool moves the entire board back and forth, it seems to be the select tool that allows you to move the note!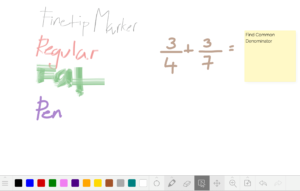 Limnu Communication
You can communicate with your student via a messaging panel and video is coming soon. So if your student is happy to text or you are talking on the phone Limnu is a great solution for visuals.
When done you can export pieces of your board in 'view ports', that are like screen shots so your student can grab what's needed for homework using the method they prefer and the tutor can save sections to the Oases session in case they might be needed in future.
Limnu Pricing
For $5.00 per month you get unlimited boards that don't expire and Team pricing would be the choice for tutoring companies wishing to provide a board service for their tutors.
A consumable API is available allowing a programmer to link Limnu to your tutoring management platform if they, like Oases, have API accessibility.
Integration
Oases Online is not integrated with Limnu. However, it is easy to place Limnu links into Oases to go out with automatic Session Reminders.
For a fully integrated whiteboard experience Oases Online is integrated with Lessonspace.
To see the features and benefits of Oases and how it integrates with Lessonspace book a demonstration below.
Book a demo time now
Use our online booking system to pick a time for a no commitment demonstration of the Oases tutoring management software. Quick and easy!