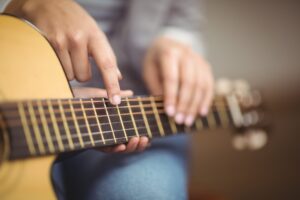 A lot of musicians teach music lessons at some point in their career. Some teach private lessons as supplemental income between gigs, while others turn their love for music into a full-time music teaching business. If you're the latter, what may have started as a one-person operation has likely expanded into a full-scale music school with multiple teachers. Whether your business focuses on a particular niche, such as the guitar or cello, or provides a wide range of services, consider these tips for making your music business more profitable.
Expand Online
While in-person lessons are the most traditional type of music lesson, adding online lessons to your service offerings can help you expand your reach and gain more clients. With online lessons you can make your business more accessible and serve students who live outside your service area. Modern technology like Skype and Facetime make it easy to teach students in real-time over the internet.  Expanding online can also allow you to keep existing students who may have moved away.
Offer Group Lessons
If you're not already offering group lessons, you should definitely consider adding them. Teaching multiple students at once allows you to increase your revenue stream. Group lessons also provide value to students, as they can learn from their peers.
Get Ahead of the Competition
There are countless music teachers out there, so you need to set yours apart. See what your competitors are doing and do it better. Keep an eye on your competitors' services and marketing strategies, and use this information to hone your own business and get ahead.
Increase Your Retention Rate
The key to maximizing your profits is retaining your students. Music learners may leave your business because they are unhappy with your service or find a competitor who offers something better. Don't just think of yourself as a music teacher; think of yourself as a mentor and coach. You need to customize your service and teaching approach to suit the needs of each student, and keep your students engaged so they learn and progress. In addition to teaching and mentoring, show your students the value of learning and practicing music, so they won't want to give it up.
Partner with Affiliate Organizations
Determine the types of businesses and organizations that interact with your target audience but aren't a direct competitor, such as music stores, schools, or sports clubs. If your music school serves children, also consider the businesses that cater to parents too. Create a list of potential affiliate organizations and reach out them. Offer an exclusive promotion for their customers, so they'd be inclined to recommend your business to them.
Improve Your Administrative Department
Don't let the administrative responsibilities that come with running a business hold you back. Streamline your administrative operations with tutor scheduling and management software. Oases tutoring software organizes all student, teacher, and related information in one place, on one system. It significantly reduces paperwork and administration, as well as the risk of scheduling errors. Learn more about Oases tutoring software by visiting www.oasesonline.com.