Tutor Match – Who is the Closest Most Qualified Instructor Available?
Intelligent Match from Oases is our proprietary tutor matching software solution that allows you to find the perfect tutor for your student. Consequently, you can find a match for a single session or for an entire schedule of sessions.
With our online software, you can use intelligent match to match your staff with students based upon:
Availability
Proximity to Location of Session
Subjects Taught
Specialist Skills
Student Age Preferences
Furthermore, your tutor can link their personal Google or Microsoft calendar to their Oases profile. Therefore, when looking at availability Oases will check when they wish to be considered available, but also check they don't have a one off appointment in their personal calendar that will cause conflict. This way your tutors are not having to update their availability manually in Oases if they need to be away once in a while.
Intelligent Match Use Cases
Match a tutor for an on-going assignment
Find the nearest substitute in an emergency situation
Tutor change requests
Subject changes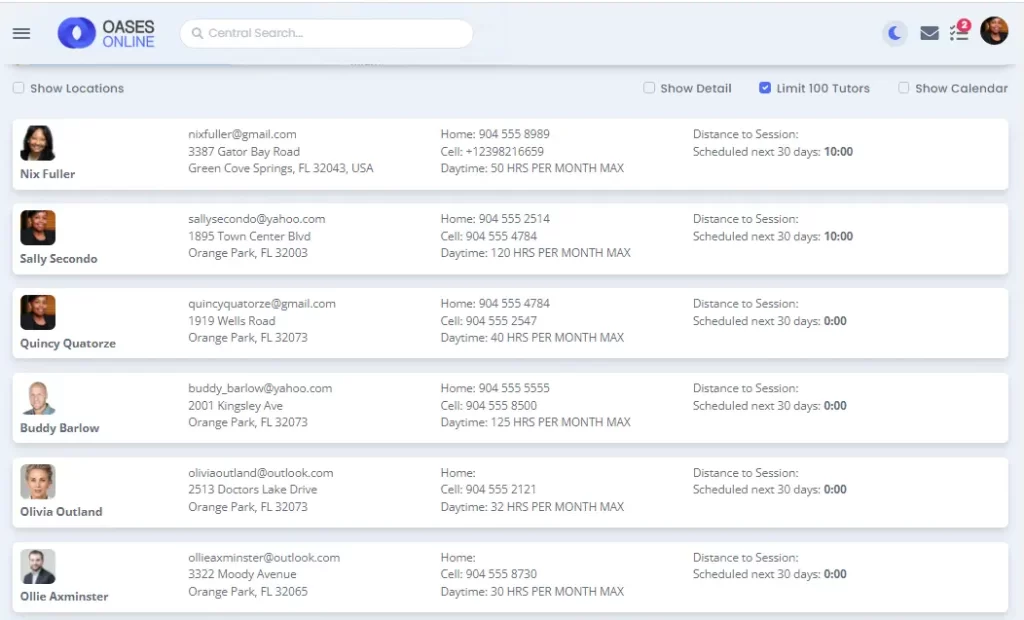 Match Process Automation
Tutor match in a Schedule of Sessions is linked to Schedule Bid. Therefore, after filtering your list of staff with the tutor matching software you can invite them all to apply for a new assignment with Schedule Bid.
Tutor Matching & Schedule Bid Video
---
So what's next?
On the right side of this page you will find a demonstration booking form. We would love to show you how Oases can streamline your business so fill out the form and book a convenient time or call us on 866.327.0035.
---
Love it and want it now?
Book your demo time now
Use our online booking system to pick a time for a no commitment demonstration that suits you. Quick and easy!
When you're ready!